Back to Index
City Spectra
Sky-Glow Analysis
The New Sky-Glow Spectra
Sky-Glow Story
Digital Sensors & Filters
Lighting Laws
Articles Published
---

The eBook "Your Light Pollution - The Sky-Glow Story" in PDF format can be purchased here.
$19.95 Canadian dollars (about $15.75 USD) for the 37 mb PDF. Complete your purchase by clicking on the Buy Now button. No shipping address is required.

Note: At the paypal checkout you will be redirected to the download page with instructions for a password.



Disabled Pending Revision!





Purchase two PDF eBooks: "The New Sky-Glow Spectra" plus "The Sky-Glow Story" as a discounted bundle (disabled).


---

A comprehensive eBook on the methods and practices of the lighting industry over the last 200 years. Packed with vital information, tables and images for any light-pollution abatemnet astronomer on the basics of sky-glow creation.

Consider this eBook a rather complete history of outdoor lighting and its connection to sky-glow. You'll discover how the sky-glow spectrum has evolved over the decades with the types of light-sources lighting companies have installed.




This 149 page (body only) PDF has well over 250 images, illustrations and tables, and is packed with sought-after information for light-pollution abatement people, but as well as for both beginner and advanced amateur astronomers. Some pictures, click for larger..




There are 4 appendices in this eBook:
Appendix 1 has the info on the codes used for NEMA labels or tags.
Appendix 2 has the definitions for Luminous Flux, Luminous Intensity, Illuminance and Luminance.
Appendix 3 shows the Basic Lighting Laws.
Appendix 4 solves for the Summation of Reflectivity under an ideal fixture.

Download a smaller PDF preview. Right-click and "Save Link As..". At 10mb this preview contains just a few selected pages.


---

Some discoveries...

As far as astronomers are concerned, the switch to LED lighting has been GOOD for public street-lighting, BAD for private commercial-industrial lighting. Using the EXIF data of previously photographed night scenes, I re-shot the same scene now with LED using exactly the same camera equipment and settings.

Some before & after images follow. For the inner city street on the left, look for a decrease in up-light on the indicated X's or for no significant changes on the indicated O's. On the right, look for changes at the indicated red arrows for this industrial roadway. Click for larger..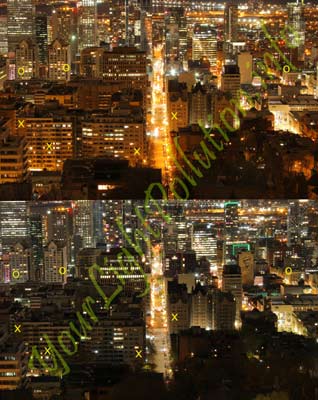 There have been massive increases recently with LED lighting wall-packs and lot lights. Installers and contractors continue to profit by installing good full-cutoff LED heads with bad upward tilts and overkill levels of light.


---

The data with numerous sky-glow spectra will be found in "The New Sky-Glow Spectra".